NCACES Board Retreat at CMAST in Morehead City, NC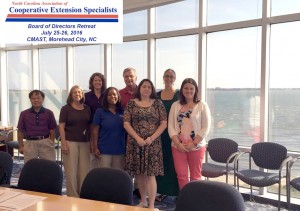 On July 25-26, 2016, the Board of Directors of the North Carolina Association of Cooperative Extension Specialists participated in annual . The Board had an extremely productive retreat. The Board established a focus and initial plan for the Special Projects Committee for 2016 and 2017 on increasing membership and improving communication, both internally and externally. Dr. Sanjun Gu and Jackie Miller graciously agreed to co-chair this committee. The Board also developed a three year program plan with a continued focus on Scholarship, Leadership, and Excellence and providing tangible benefits and professional development for the membership.
We look forward to sharing more details with you at our Fall Meeting on November 4 in Raleigh (meeting room TBD).
In the meantime, if you would like to volunteer to assist Dr. Gu and Jackie in the implementation of a membership recruitment and communications plan, please contact them directly at
sgu@ncat.edu
and
jackie_miller@ncsu.edu
.